You're probably used to Mac apps using red underlines to mark misspelled words, but did you know that macOS has long included a fully featured Dictionary app as well? It provides quick access to definitions and synonyms in the New Oxford American Dictionary and the Oxford American Writer's Thesaurus, along with definitions of Apple-specific words like AppleCare and MacTCP. But that's far from all it can do.
First, let's make sure we're all on the same page. Launch the Dictionary app from your Applications folder and then type a word or phrase into the Search field. As you type, Dictionary starts looking up words that match what you've typed so far—you don't even have to press Return. If more than one word matches what you've typed, click the desired word in the sidebar.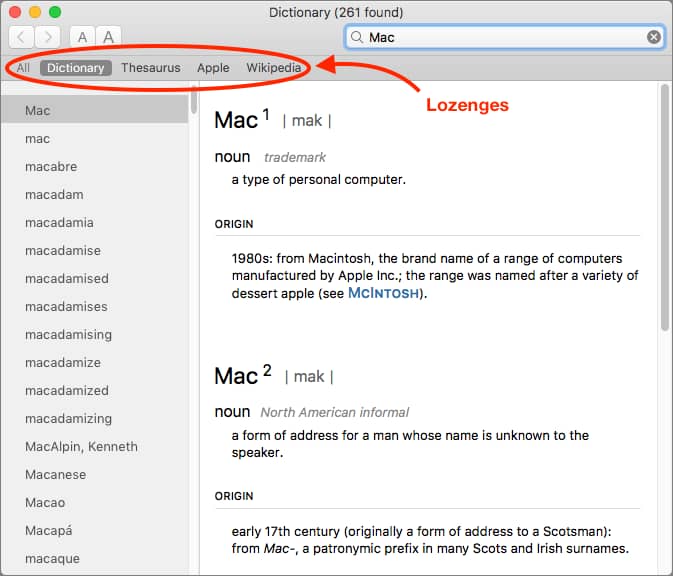 Notice the lozenges below the toolbar, representing the references that Dictionary can consult, and no, your eyes aren't deceiving you—Dictionary can look things up in Wikipedia if your Mac has an Internet connection. In short, Dictionary gives you instant access to a dictionary, a thesaurus, and an encyclopedia containing over 5.4 million articles in English alone! You can click a reference's lozenge to limit your search, or select All to scan all of them.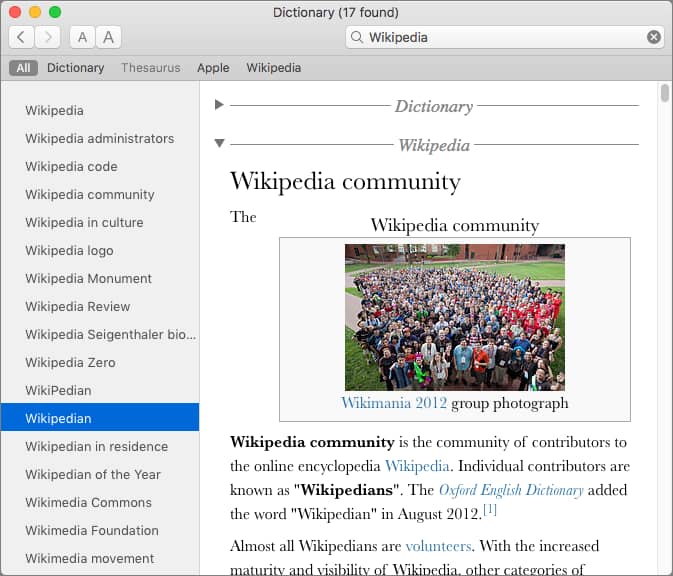 If you want to look up words in another language, or even just British English, Dictionary has you covered, with a long list of other reference works. Choose Dictionary > Preferences and select those you'd like to use. You can drag the selected entries into the order you want their lozenges to appear below the toolbar.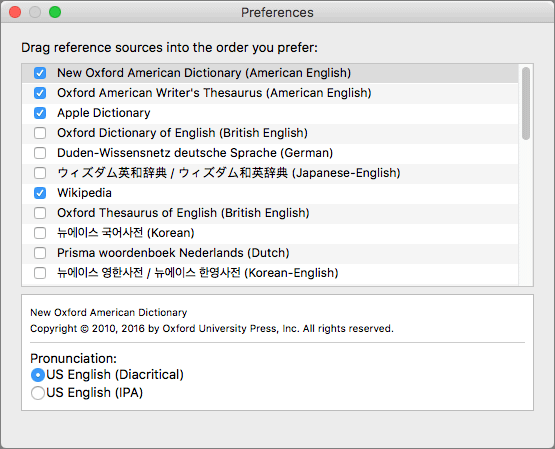 Once you're in a definition, note that you can copy text for use in other apps—always helpful when wading into grammar and usage arguments on the Internet. More generally, you can click any word in Dictionary's main pane to look it up instantly. If dictionaries had been this much fun in school, we'd have larger vocabularies! Use the Back and Forward arrow buttons to navigate among your recently looked-up words.
As helpful as the Dictionary app is, you probably don't want to leave it running all the time. Happily, Apple has provided quite a few shortcut methods for looking up words:
Press Command-Space to invoke Spotlight, and enter your search term.



Select a word, and then choose

AppName

> Services > Look Up in Dictionary to launch Dictionary and search for that word. This trick should work in most apps, but won't work in all. If the Look Up in Dictionary command doesn't appear, make sure it's enabled in System Preferences > Keyboard > Shortcuts > Services, in the Searching category.


Last but best, hover over a word or phrase with the mouse pointer and either press Command-Control-D or Control-click the word and choose Look Up "word." If the app supports it, macOS displays a popover with the definition or Wikipedia article. If you have a trackpad, you can also do a force-click or three-finger tap on the selected word—make sure the "Look up & data detectors" checkbox is selected in System Preferences > Trackpad > Point & Click.



Now that you know how to take full advantage of the reference works that Apple has built into macOS, it's time to get in touch with your inner logophile (feel free to look that one up).